Just a few basic yet delicious ingredients, like fresh basil and melty mozzarella cheese, are all that's needed to create a delicious Margherita pizza. My simple pizza recipe calls for store-bought pizza base, premade tomato sauce, and whatever toppings you choose. Use this Margherita pizza recipe as the basis for your next Italian-themed pizza night or Friday night movie.
About This Recipe
Margherita pizza is one of the easiest pizzas to prepare at home, and it tastes great. A Margherita's particular quality lies in its uncomplicated brilliance.
The greatest versions include lots of fresh basil and mozzarella cheese over a tangy tomato sauce. To boost the dish's taste, you can use tomato slices.
The best Margherita pizza I've ever had started with a Whole Wheat Pizza Crust and ended with me making my own pizza sauce.
Use only the finest ingredients to make the most delicious pizza, with a dough that is chewy but not too so, and a sauce that is both flavorful and flavorful.
What, no yeast? Not at all! You have to try this recipe for No Yeast Pizza Dough!
Considering I don't own a pizza stone, I've simplified this recipe for you. I do, however, own a pizza stone and regularly use it to bake pizza.
The majority of us do not own pizza stones, therefore I will demonstrate a simple way for baking on a pan instead.
Check out the "expert advice" section below or the recipe card's comments for information on using a pizza stone.
What's the difference between Margherita Pizza and regular cheese Pizza?
Let me explain the distinction in case you're confused. Margherita pizza uses marinara or tomato sauce as the primary sauce.
After baking, fresh mozzarella and parmesan cheese are added and then sprinkled with basil and extra-virgin olive oil.
Cheese pizzas are made with tomato sauce on the dough and a combination of cheeses such fontina, romano, provolone, and parmesan sprinkled on top.
How to make Margherita Pizza from Scratch
Make the dough
1 The first step to making a great pizza is to make a great pizza dough. In a large mixing bowl or in the bowl of a standing mixer with a hook attachment, add 1 teaspoon of instant yeast (3 grams) and ½ teaspoon of sugar. Instant yeast is rapid rising yeast.
If using dry active yeast or fresh yeast, then check the "Notes" section of the recipe card below or follow these instructions:
1 teaspoon instant yeast = 1.5 teaspoons active dry yeast = 3 teaspoons fresh yeast
Mix dry active yeast or fresh yeast and ½ teaspoon sugar in 1 cup lukewarm water. Set aside for 10 to 15 minutes or until the mixture has become frothy and bubbly
Mix with rest of the ingredients and knead to a soft dough.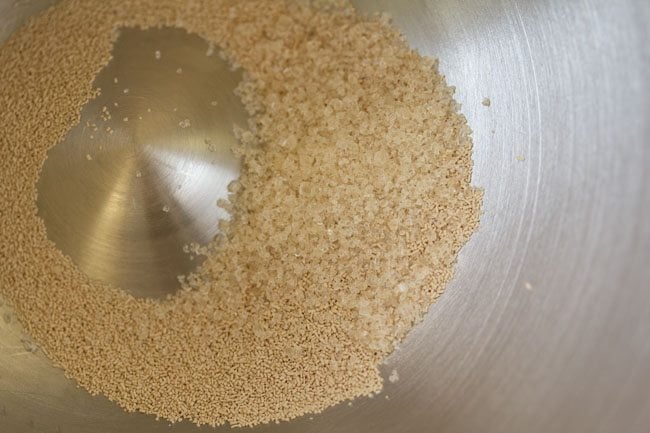 2 Add 1 cup of water and mix well.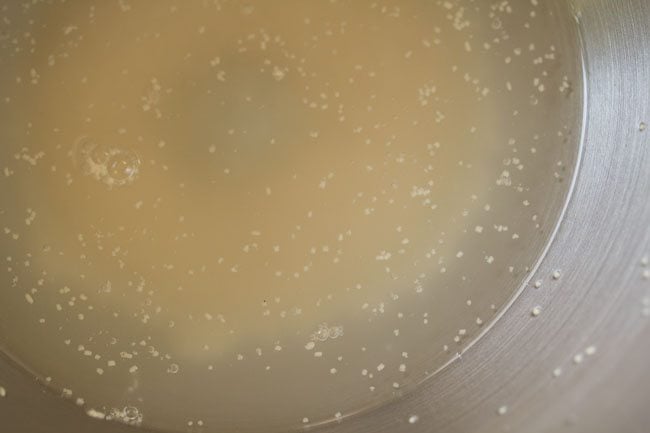 3 Next add 3 cups of whole wheat flour and 1 teaspoon of salt.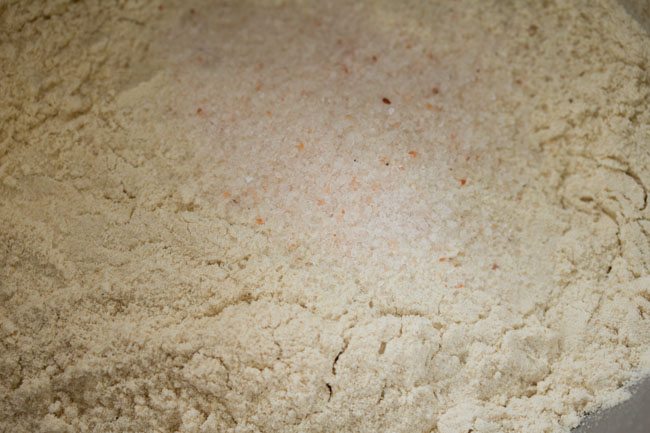 4 Add 3 tablespoons of olive oil, or preferred flavorless oil.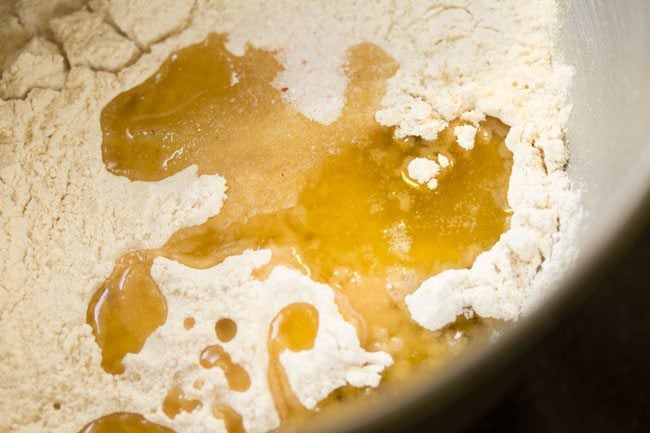 5 Plus add 1 tablespoon of lemon juice.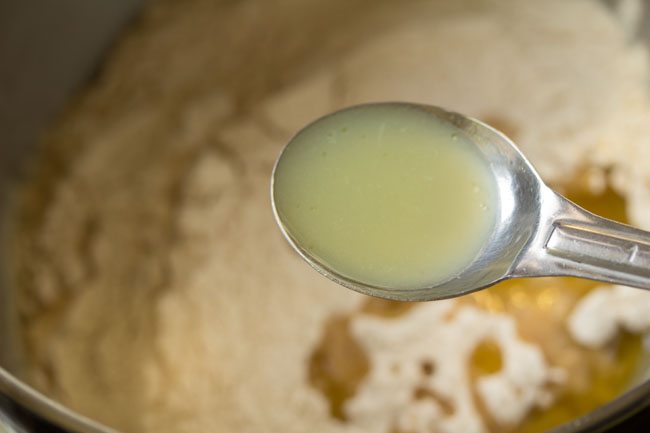 TIP: A little bit of acidity helps in gluten development. If you do not have lemon juice, 1 tablespoon of apple cider vinegar is an option.
6 Use the hook attachment of the standing mixture on medium speed to combine the ingredients and bring the dough together.
You can also knead the pizza dough by hand. To do so just be sure to fully knead the dough for 8 to 10 minutes on a lightly floured surface.
7 The dough should be smooth, pliable and soft. If the dough looks dry, then you can add some water while kneading. If the dough seems sticky, sprinkle a bit of flour over the dough and continue to knead.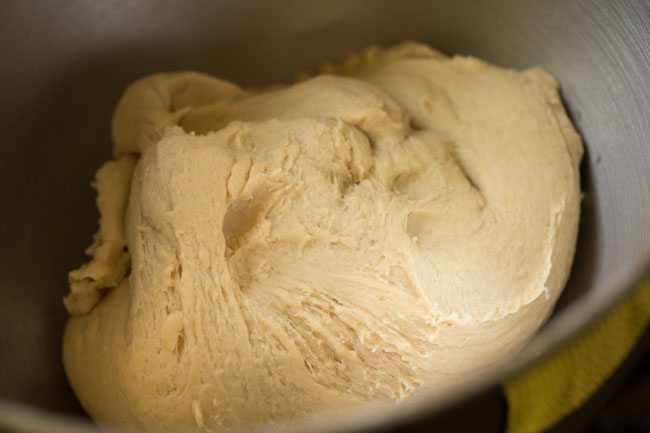 Proof the Dough
8 Once combined, shape into a round ball within the bowl. Use your fingers to spread a light layer of water all over the dough.
9 Cover the bowl with a lid or a kitchen towel, and allow to rise until the dough increases in volume and doubles up. This should take about 45 minutes to 1.5 hours, depending on the temperature of your kitchen.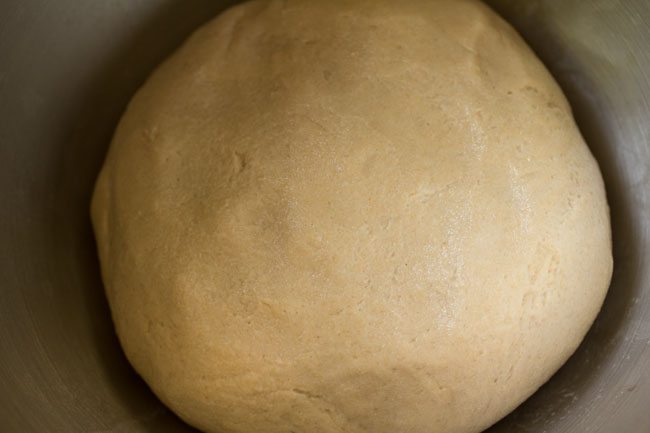 If using dry active yeast, then keep covered for 1:30 hours to 3 hours (it depends on the temperature conditions in your city).
10 Below is a picture of my dough having doubled in size.
11 And here is the dough once I started to work with it again. It should be stringy with tiny air pockets. This texture is what creates that slightly chewy crust you want.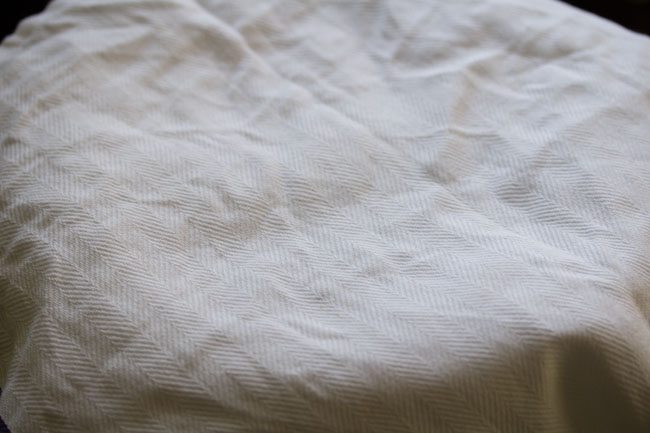 12 Knead the dough lightly again, and either use immediately or pack and store in the fridge or freezer.
Assembling Margherita Pizza
13 To make pizza with your homemade dough, first prepare a 9-inch pan or tray by lightly greasing with oil and dusting with flour, cornmeal, or semolina.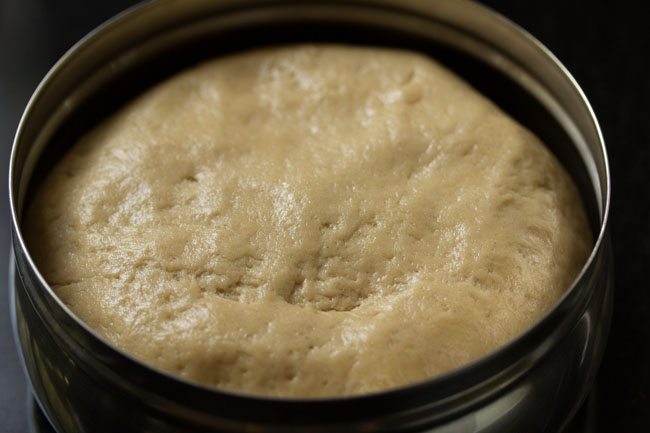 Preheat the oven to its highest possible temperature. My oven has 250 degrees Celsius (475 degrees Fahrenheit) as the highest temperature.
Allow the oven to preheat for 15 to 20 minutes before baking the pizza to make sure it's perfectly hot.
14 Separate the pizza dough into 6 or 7 even sections, packaging and storing any you're not planning to use. To store, wrap each individual section in plastic wrap, and then seal all of the dough in an airtight plastic bag or other container.
Working one pizza crust at a time, lightly flour a clean surface and sprinkle the dough with flour.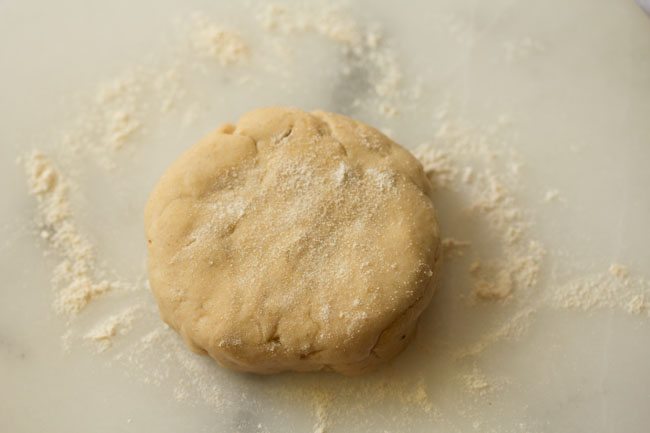 15 Use a rolling pin to roll the dough ball into a flat circle, about 0.5 centimeter or ¼ inch thick. Flour the rolling pin if it sticks, or use a piece of parchment paper between the dough and rolling pin.
16 Carefully lift and place the dough into the greased baking or tray.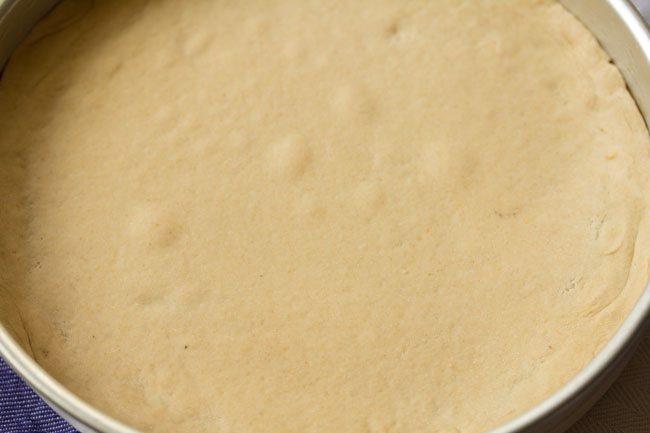 17 Next, spread on a thin layer of store bought or homemade pizza sauce. Leave a good bit of room around the edge of the dough clear for the crust.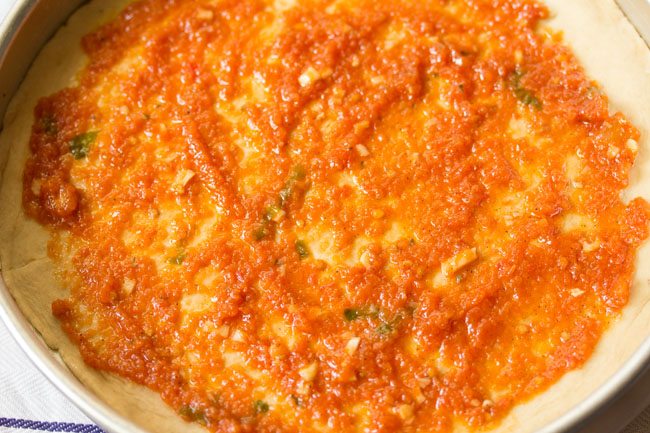 18 Add a generous sprinkling of vegetarian parmesan cheese (optional).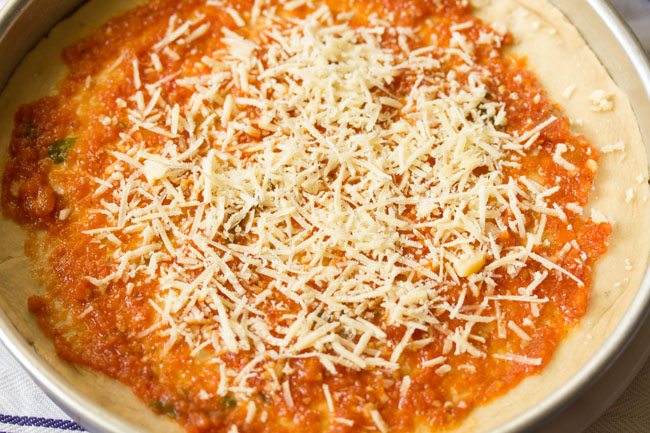 19 And top with lots of fresh mozzarella cheese. Spread out evenly, again, avoiding the very edge of the crust. Break fresh mozzarella cheese into chunks and place it on the crust.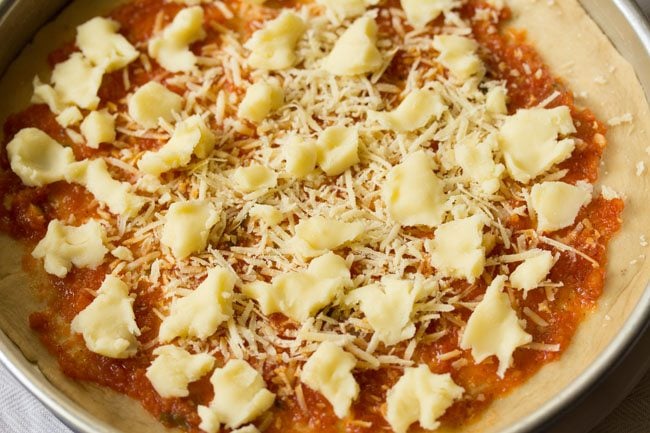 TIP: If you have water soaked fresh mozzarella, then squeeze water from the mozzarella to avoid a soggy crust.
Baking
20 Move the baking rack or tray to the lowest position in your preheated oven. This will help create a wonderfully crispy crust.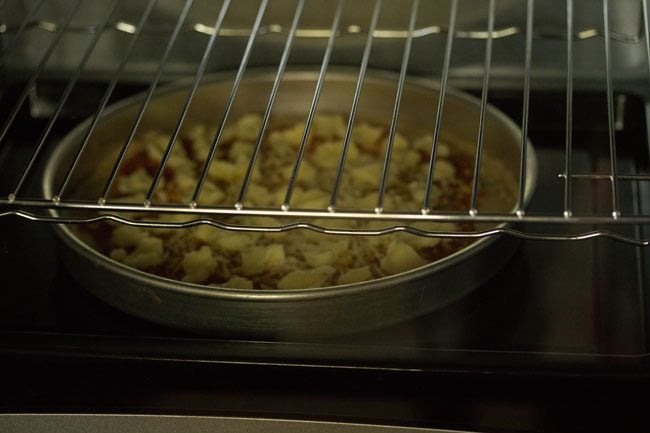 Place the pizza pan either on the rack or on the tray.
21 Bake the Margherita pizza for 10 to 15 minutes, until the cheese is completely melted and the crust is lightly golden in color.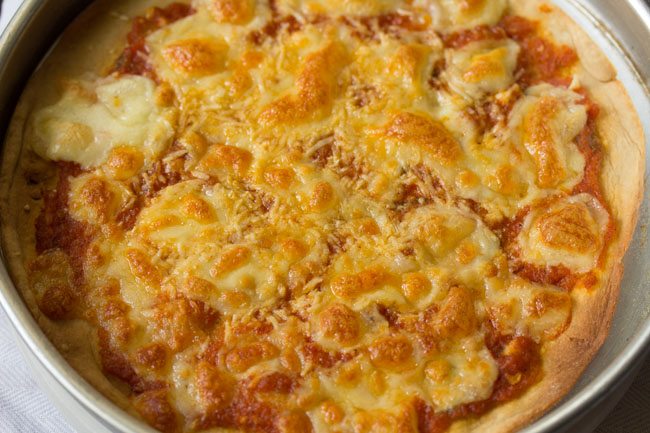 Serving Suggestions
22 Remove from the oven and top the pizza with some torn fresh basil leaves. You can also add a dash of dried oregano or red chili flakes, if you want.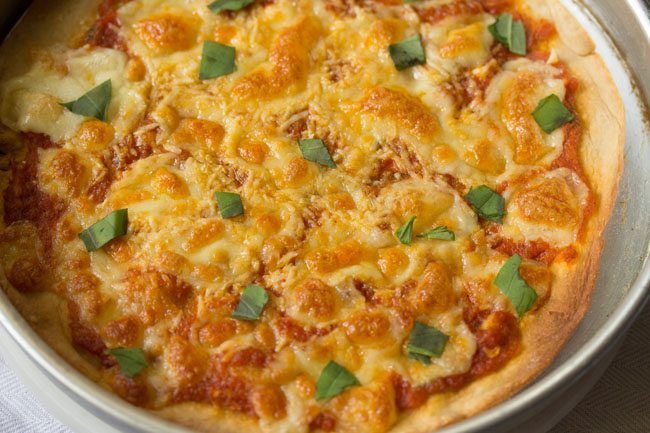 I also recommend that you drizzle a bit of extra virgin olive on the Margherita pizza just before serving, for a truly authentic Italian taste.
TIP: Fresh basil is always added on a baked pizza. Do not add fresh basil before baking the pizza as it will wilt, dry out and loose its delicate aromatic flavor.
23 Use a pizza cutter or serrated knife to cut the Margherita pizza into 4 to 6 even slices.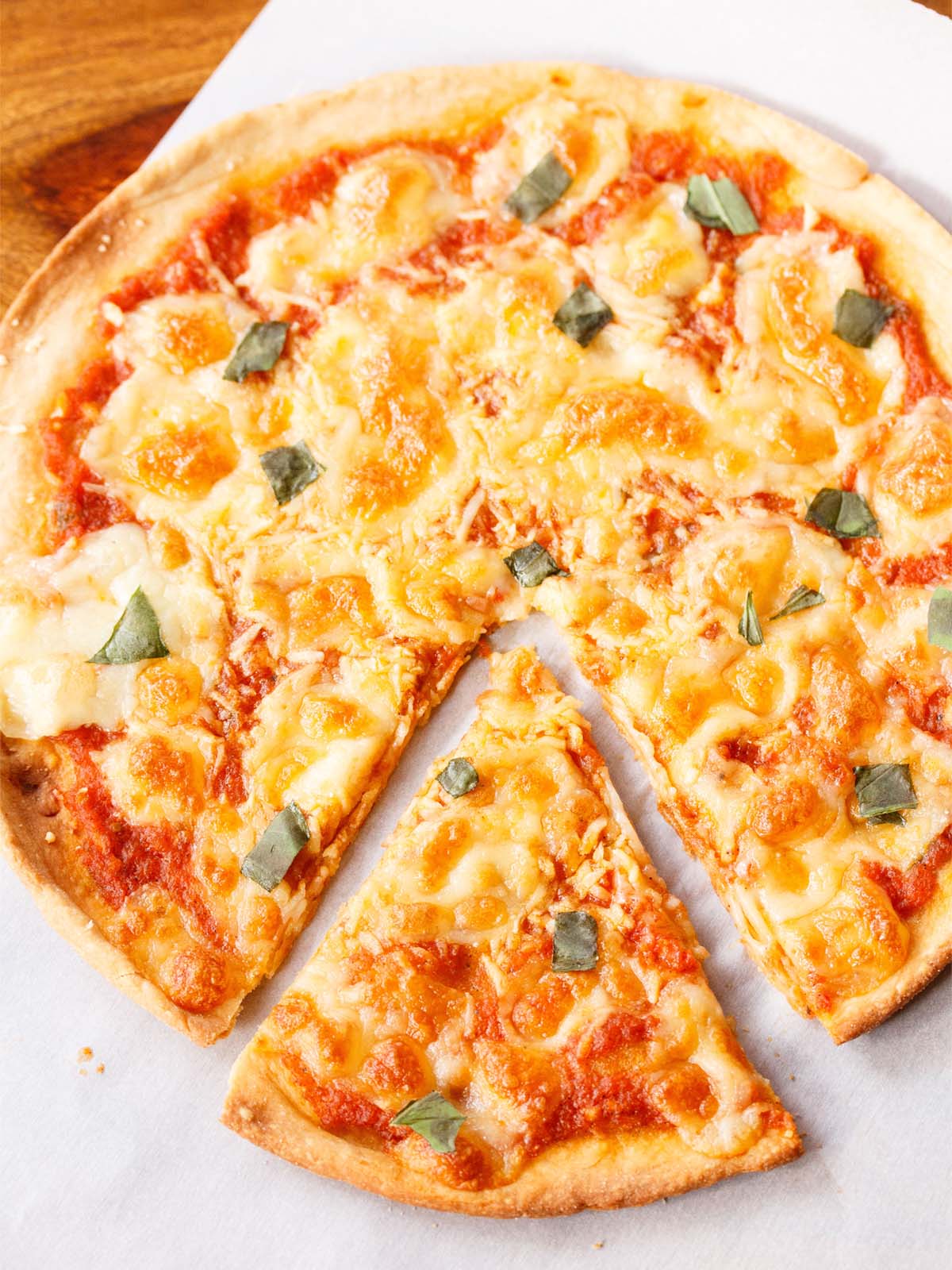 Make Ahead and Storage
Both the sauce and the dough may be prepared in advance, giving you more time to focus on other aspects of pizza preparation before you actually put the pie together and into the oven. My Homemade Pizza Sauce and the pizza dough may be stored in the fridge for up to three months.
Use premade pizza dough and canned pizza sauce if you want a quicker and easier pizza option.
Either way, you may expect to get six or seven personal pizzas from this recipe, each with a thin crust and a diameter of around nine inches.
You can make them in enough for a pizza party, or you can store them in the freezer and pull one out anytime you get a pizza desire.